Death is a big topic for any of us. It doesn't matter how many years or decades we've been here, it's always painful and difficult to process when we lose someone we love. But while it's hard for all of us, it can be confusing for kids who haven't had much exposure to loss or the idea of death yet. All of the emotions that we can experience as adults are emotions that kids go through, too, but without the years and experience to understand what's happening and how to get through it.
When Jude died, Isla and Thomas were five and two, respectively. We'd had other losses in our family before, but losing Jude was different for them. In the days and weeks following Jude's death, we received a huge outpouring of support from friends, family, and neighbours, some giving children's books that we're still reading now. Each of these books was different from the others, and each had its own message and gave us opportunities to talk about Jude and what had happened to him, and what happens to everyone someday, and how we can love each other while we're here and continue to love each other after. Each of these books has been invaluable.
In the two years since we lost Jude I've unfortunately needed to pass on books and recommendations to others who have needed them. We've built up a bit of a library, and we've also had a lot of recommendations from friends who have found other great books on loss for kids. It's often difficult to find these books in store and they need to be ordered online. When you're trying to find just the right one, that could be as difficult as choosing a sympathy card without being able to read what's inside (don't do that!). So we've decided to put together this post to help you find the right book for your needs. Read through to learn more about each of the books in this pile and who we would recommend them for. I hope you'll never need to use this list, but if you do, I hope it helps you find the right book for you. And if you aren't currently dealing with loss, I'd love to recommend adding some of these to your library, anyway. Introducing these concepts when you don't need them might help a lot when you do.
A huge thank you to Isla and Thomas who wanted to help go through all of these books and give their thoughts on who they might be right for. This is our list, in no particular order. It isn't exhaustive, there are so many others out there, but we hope that these books that have meant something to us and our loved ones will help you and yours when you need them. Scroll through the page or click on a title to jump down to the book you're interested in.
1. Rabbityness
2. The Goodbye Book
3. Ida, Always
4. When Dinosaurs Die: A Guide to Understanding Death
5. The Memory Box: A Book About Grief
6. The Memory Tree
7. City Dog, Country Frog
8. Where are you? A Child's Book About Loss
9. The Heart and the Bottle
10. Life and I: A Story About Death
11. I Miss You: A First Look At Death
12. Cry, Heart, But Never Break
13. Wherever You Are, My Love Will Find You
14. The Tenth Good Thing About Barney
15. What Happens When A Loved One Dies? Our First Talk About Death
16. Lifetimes
17. The Invisible String
Rabbityness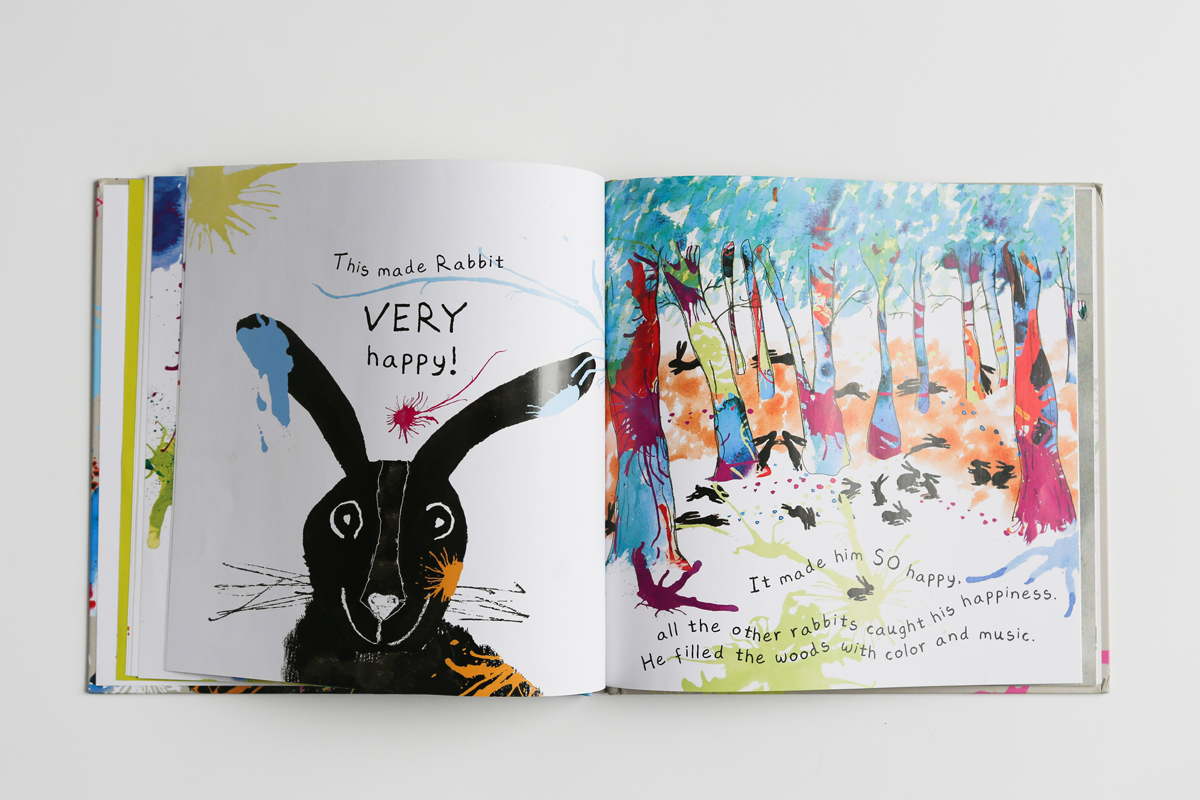 Rabbityness, written and illustrated by Jo Empson.
Keywords: Love, loss, legacy
Purchase: Canada and U.S.A.
I'm sharing this one first because this has been the book we've come back to time after time. A good friend had it sent to us immediately, letting us know in advance in case it wasn't the right fit. She didn't need to worry. This short, sweet story just what we needed. Rabbityness tells us the story of Rabbit, who loved to do rabbity things like jumping and washing his ears, but also unrabbity things like painting and playing music. His unrabbityness filled the woods with colour and made all the other rabbits happy. One day Rabbit is gone and the woods go grey, but he leaves behind the gifts to fill the woods with colour again. The other rabbits learn to do his unrabbity things, and they think of Rabbit and remember him, and this makes them happy.
Rabbityness teaches us that when we've lost the ones we love, we can remember them and keep loving them with the things that made them happy and special.
What we love: The story is short but poignant. The artwork is beautiful, with vivid colours showing joy and love, and greys demonstrating the sadness the other rabbits feel when they've lost Rabbit. We love to chat after about the things that Jude loved and laughed at, and how we can do good things in his memory to make other people feel happy, too.
Who it's for: Everyone. It's simple enough for toddlers, but its message hits home for all of us.
The Goodbye Book

The Goodbye Book, written and illustrated by Todd Parr.
Keywords: Introduction, feelings, coping
Purchase: Canada and U.S.A.
I love this one for young kids. We follow a little red fish who has lost his buddy. We watch this little fish who goes through all the complicated human emotions of loss, from not wanting to talk, pretending it didn't happen, and going through good days and bad ones. We watch the little fish remember all the good things about his friend, and the special times they had together, and learn to find some comfort in those memories. And Todd Parr reminds us that it's all okay, all of it. However we're feeling when we've lost someone, it's normal and not wrong.
What we love: I love how this acknowledges the complicated feelings after we say goodbye to someone and let's little ones know that it's okay to be confused and sad, and it's also okay to be happy.
Who it's for: Young kids especially, and this can work whether they're dealing with loss through death, the loss of a pet, a friend moving away, or any situation where they won't see anyone for a long time or ever again.
Ida, Always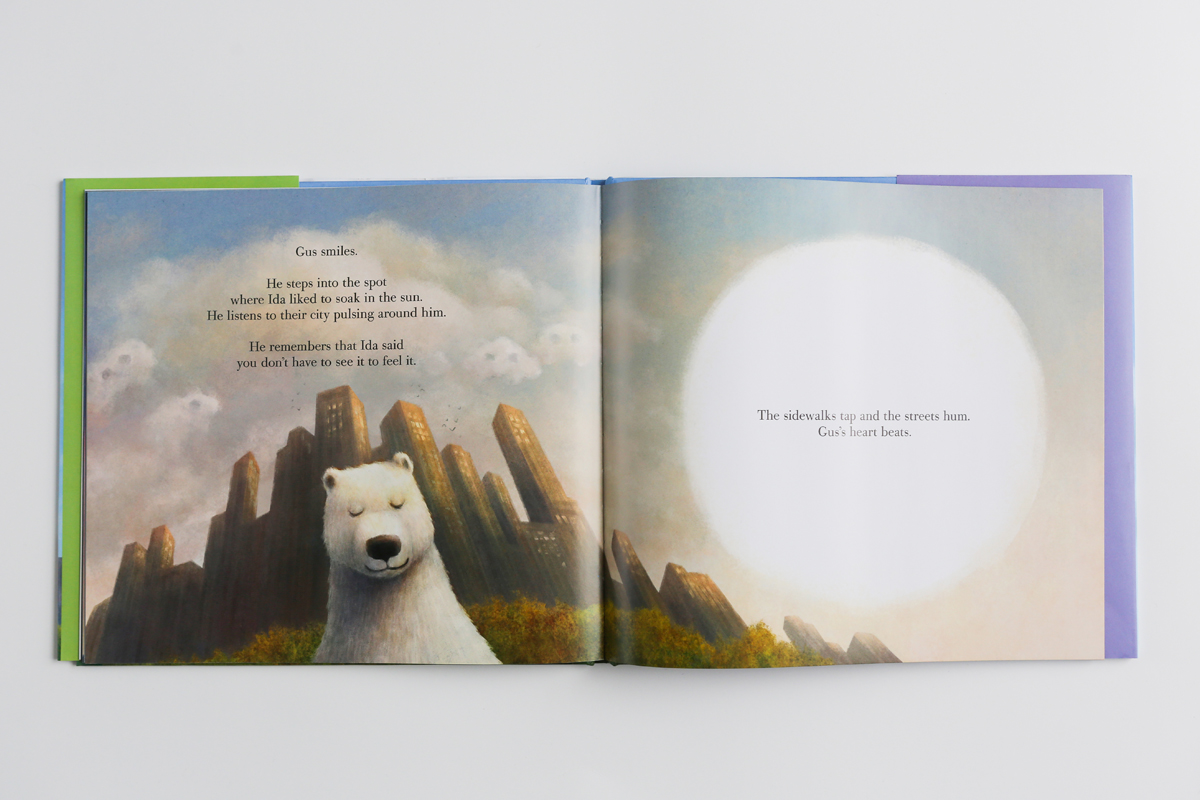 Ida, Always, written by Caron Levis and illustrated by Charles Santoso
Keywords: Illness, friendship, death, memory
Purchase: Canada and U.S.A.
Ida, Always is the story of Ida and Gus, two polar bears living in the Central Park Zoo. They're the best of friends and love spending their days together. One day Ida gets sick, and Gus learns that she won't be able to get better. They love each other through her illness, navigating grief of the impending loss, sometimes needing time apart, but supporting each other and cherishing the time they have. We follow Gus after Ida dies as he learns to live his life without her, but always remembering her.
What we love: The beautiful illustrations, the gentle way Ida's illness is explained to Gus, the depth of Gus' grief, and the love they have for each other that helps them both get through the time Ida has left, and Gus' days after. I first read this one in the store and I have no shame in telling you that I was still drying my eyes while purchasing it. In the last pages I could feel the sun right along with Gus, just as Ida had.
Who it's for: Anyone, but especially for kids who love someone who is living with a terminal illness. Gus is heartbroken and angry knowing that he'll lose Ida, and needs to work through his feelings while also loving Ida while she's still with him. We see how it's okay to feel mad and sad sometimes when we're going to lose someone and we can't stop it, but that doesn't mean that we can't keep loving them.
When Dinosaurs Die

When Dinosaurs Die: A Guide to Understanding Death, Written and illustrated by Laurie Krasny Brown and Marc Brown
Keywords: Big questions, big answers
Purchase: Canada and U.S.A.
This book is a fantastic resource. It's straightforward and gentle in its approach, taking us through colourful illustrations and answering all the questions kids might have about life and death, when and why it happens, and what happens after, including all of our feelings about it. There are suggestions for ways to remember someone you've lost and it includes a glossary of terms in the back. It doesn't shy away from any of it, even including infant death, war, and suicide. It sounds heavy, but the way they've written and illustrated this book makes it easier to have these tough conversations with kids. There's also a section on pet loss.
What we love: It tackles the hard stuff head on, but with love and sensitivity. The pictures are colourful and fun, helping to make this very difficult topic age appropriate.
Who it's for: Anyone looking for a practical resource for kids with questions about death.
The Memory Box

The Memory Box: A Book About Grief, written by Joanna Rowland and illustrated by Thea Baker
Keywords: Legacy, memories, activity
Purchase: Canada and U.S.A.
In The Memory Box we follow a little girl who has lost someone she loves. She's sad because she'll never have her loved one back and she's afraid she'll forget them. She decides to make a memory box filled with things that remind her of her loved one, from her past and as she moves forward, always with her loved one in her heart. In the end there are pages to help kids work through their grief, acknowledging that their feelings are normal and offering activities that can help. The illustrations are beautiful.
What we love: After someone dies there can be a feeling of helplessness and a fear of forgetting the important things. I remember the day after Jude died sitting down at some point and making lists of Jude things that I was terrified I wouldn't remember. Silly little things that might seem inconsequential, but were all I had. We keep a box of his important things and we try to include him in our adventures by bringing along one of his favourite toys. All of these things have helped, and I love the suggestions in this book for helping kids hold on to their own memories of someone they love.
Who it's for: Anyone looking for an activity to help a child who's afraid they'll forget. This is something an older child can do on their own, or that anyone can do as a family.
The Memory Tree

The Memory Tree, written and illustrated by Britta Teckentrup
Keywords: Grief, memories, legacy
Purchase: Canada and U.S.A.
When Fox dies all of his friends are sad. They gather together and share their memories of their time together. As they talk, a small orange leaf begins to grow in the place where Fox had been, and it grows bigger and stronger with their stories and their love for Fox, filling their lives and their home with his presence even after he died. The illustrations are bright and lovely and reflect the shifting moods throughout the story.
What we love: The reminder that people live on through the people who survive them, that our our memories of our love of them and our time together stay with us and will always fill our lives with that colour.
Who it's for: Anyone, but especially children who have lost someone they'd made a lot of memories with.
City Dog, Country Frog

City Dog, Country Frog, written by Mo Willems and illustrated by Jon J Muth
Keywords: Life cycles, memories
Purchase: Canada and U.S.A.
This book takes us through the different seasons of a year, starting with spring when City Dog first meets Country Frog. They become friends, sharing dog and frog games. By fall, Country Frog is becoming tired and can't play the same way, so they spend their time remembering. In winter, City Dog returns to find his friend's rock empty.
What we love: The way the book follows the changing seasons along with the frog's life cycle. He's here, getting older and close to death in the fall, and gone when the snow comes. In the new year, City Dog returns again in spring to find his friend's rock still empty, but then finds a new friend (Country Squirrel!), reminding us that we all have our times and our seasons, and that when one comes to an end another is beginning.
Who it's for: Anyone who has had to say goodbye. While the Country Frog may have died, there might be other reasons he's gone, too. We can all relate to saying goodbye to someone. City Dog shows us that you can remember absent friends and still live life ahead.
Where are you?

Where are You? A Child's Book About Loss, written by Laura Olivieri and illustrated by Kristin Elder
Keywords: Sudden loss, questions, memory
Purchase: Canada and U.S.A.
A young boy loses someone he loves, and wherever he looks that person is gone. He wonders where his loved one has gone, sad that he can't see or hear this person anymore. He remembers the good times together and how happy he'd been. And because he remembers his loved one, that person is still in his heart.
What we love: Written by a parent helping her young son deal with the loss of his father, this book brings up the questions we have about where we go when we die, and the feelings we have when someone we love isn't here anymore. At the end the author gives suggestions on how to talk through this subject with your child, encouraging you to explore thoughts related to your beliefs.
Who it's for: Young children learning to deal with an unexpected loss.
The Heart and the Bottle

The Heart and the Bottle, written and illustrated by Oliver Jeffers
Keywords: Heart breaks, heart closes, heart heals
Purchase: Canada and U.S.A.
A young girl and her grandfather talk about the world and all its mysteries as they have adventures. When her grandfather dies, the girl doesn't know what to do, so to protect her heart she puts it in a bottle and hangs it around her neck. She's safe, but the world isn't as beautiful and exciting as it had been before. Time goes by and she grows, and one day finds she needs her heart again, but doesn't know how to get it back out of the bottle. Fortunately, she finds someone who helps her and with her recovered heart, the world and its mysteries return to her.
What we love: When our hearts are broken it's tempting to close them off to avoid going through that kind of pain again. But as we watch the girl grow bigger without all the beauty of her world, we see how much she's missing, and how much she gets back when she opens her heart back up to love and wonder again.
Who it's for: I read a recommendation that this one is great for older kids and teens, and I love that suggestion. I enjoyed it with my young ones, but young hearts are often more resilient and more open to love again. If someone is struggling with finding joy again after a loss, give them a little time. That's normal. But this book might be a good fit, too.
Life and I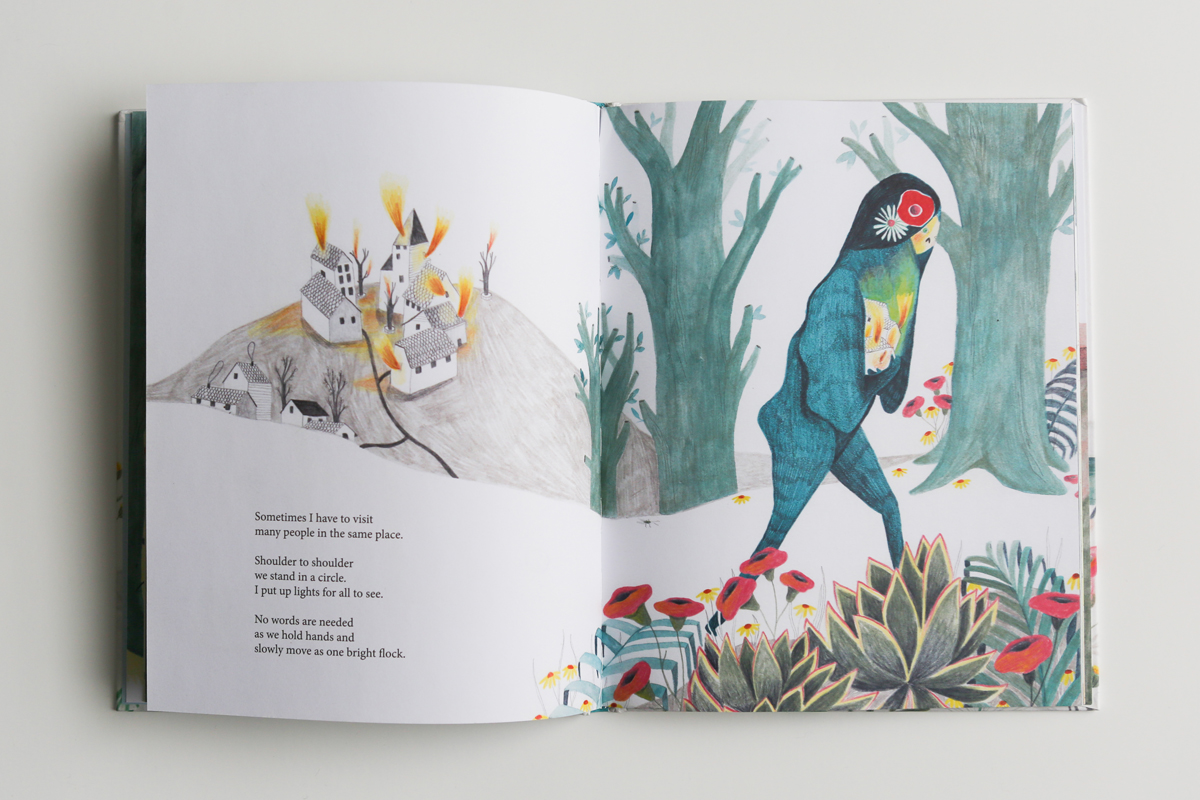 Life and I: A Story About Death, written by Elisabeth Helland Larsen and illustrated by Marine Schneider, translated by Rosie Hedger
Keywords: Poetic, straightforward, loving
Purchase: Canada and U.S.A.
I was hesitant with this one in the first few pages and then it completely won me over. In this story Death is personified by a girl with green eyes, who visits everyone when it's their time. She tells us that some people may try to hide from her, but that isn't possible. Eventually everyone will meet her and she is as much a part of all of us and all living things as Life is. She tells us that her work is necessary, because without her there would be no one to make way for new life and new growth.
What we love: Stick with me. I love this book. It's a little blunt, but it's also beautiful. Death tells us that she most often visits people who have lived very long lives, but sometimes she must visit them sooner. She tells us about her visits to children and babies and how gently she brings them with her. She tells us about mass tragedies, which can be so difficult and painful to process for any of us. She even tells us about pregnancy loss. The book leaves space for questions and discussion and what we think might happen after we die.
Who it's for: Anyone, as long as they appreciate straightforward conversation and beautiful art.
I Miss You: A First Look At Death

I Miss You: A First Look At Death, written by Pat Thomas and illustrated by Lesley Harker
Keywords: Educational, conversational
Purchase: Canada and U.S.A.
This book works through the tough questions and the feelings that comes with them, while also providing opportunities to stop and talk about our own experiences. It talks about some of the things that often happen when someone dies, and how different cultures might have their own traditions. The author shows some of the different emotions we might go through after we lose someone and reminds us that if we remember our loved ones, they stay with us in our hearts.
What we love: It's a bit of everything with lovely illustrations. It's great for helping kids better understand what death is and all the things that happen after, and it encourages conversation around a topic that can be hard to talk about.
Who it's for: Kids of any age.
Cry, Heart, But Never Break

Cry, Heart, But Never Break, written by Glenn Ringtved and illustrated by Charlotte Pardi
Keywords: Whimsical/sad, unexpected ally
Purchase: Canada and U.S.A.
Four children live with their grandmother, until one night a visitor arrives. It's Death, coming to take their grandmother away. The children make a plan to prevent that from happening, but during their time together one of the children asks Death why they can't keep her. In this story, Death is kind and gentle and takes the time to tell the children a story that helps them understand that as day and night come together, so do joy and grief, and life and death. Death's story helps the children understand that it's time for their grandmother to go, and also that it's okay to grieve their loss while still loving her when she's gone.
What we love: This story recasts Death not as a villain, but as a friend who cares about those he comes for and those left behind. It shares a story within the story that reminds us that life and death, delight and sorrow, light and dark are greater because the other exists, and so because we know that death waits at the end of life, we appreciate life and its joys more while we're here.
Who it's for: Anyone struggling with the 'why'. This isn't a story that answers the practical questions, but brings us back to the basic philosophical ones at the heart of life and death.
Wherever You Are

Wherever You Are, My Love Will Find You, written and illustrated by Nancy Tillman
Keywords: Beautiful, loving across distance
Purchase: Canada and U.S.A.
This lovely little board book follows a child through all kinds of adventures, with love always present, no matter what. As with all of Nancy Tillman's books, the illustrations are gorgeous, and we see the child frolicking with elephants, bouncing on a trampoline with a kangaroo, and dancing with flamingos, all accompanied by twinkly sparkles representing love.
What we love: The message that no matter what, no matter where, our love for our loved ones will stretch and last and stay.
Who it's for: Anyone who's missing someone who is far away or gone, but it's also a beautiful book to read with your kids without those circumstances. This is a great option for a baby gift.
The Tenth Good Thing About Barney

The Tenth Good Thing About Barney, written by Judith Viorst and illustrated by Erik Blegvad
Keywords: Pet loss, feelings, remembrance, life cycles
Purchase: Canada and U.S.A.
When a young boy's cat dies he feels very sad. His family plans a funeral for Barney and suggests that the boy make a list of ten good things about him to share. The boy remembers that Barney was funny and clean, and seven other things, but struggles to find a tenth until his father explains what happens to our bodies after we die.
What we love: This story reassures us that our feelings about loss are natural while reminding us to focus on all the good things that we shared with our loved one.
Who it's for: This is a great fit for a child who is dealing with the loss of a pet, but can also work for the deaths of people in their life.
What Happens When A Loved One Dies?

What Happens When A Loved One Dies? Our First Talk About Death, written by Dr. Jillian Roberts and illustrated by Cindy Revell
Keywords: Questions and answers, funerals, souls, and memories
Purchase: Canada and U.S.A.
This colourful book includes an introduction to the concepts of life and death, and everything that comes after for those of us left behind. It opens the door to discussion about different cultures and traditions, and gives us the chance to talk about where our souls go after our bodies die. It encourages children to find ways to remember and honour our lost loved ones.
What we love: This book is a great resource to introduce the topic of death. It approaches a complicated subject in a gentle, but straightforward manner. The colourful illustrations are a great fit for the text, and the questions will help open the door to conversations with your child.
Who it's for: Kids of any age with big questions. This book will help answer them in a simple, age appropriate way.
Lifetimes

Lifetimes: The Beautiful Way to Explain Death to Children, written by Bryan Mellonie and illustrated by Robert Ingpen
Keywords: Life cycles, nature
Purchase: Canada and U.S.A.
Lifetimes uses nature to teach children about life and death, including plants and animals and their life cycles to demonstrate that everyone has their time and their place. It tells us about how some insects and animals have very short lives, while trees may live hundreds of years. It takes these concepts and applies them to people to help us understand that, like all living things, we live and we die.
What we love: This book places our lives in the context of the world around us, and helps us see our mortality as part of the natural order. For children who are beginning to learn about death, it can be hard to understand that someday our lives will end. Connecting ourselves with every other living thing on the planet can help us process that it's natural for our lives to end someday.
Who it's for: Kids who thrive with practical explanations.
The Invisible String

The Invisible String, written by Patrice Karst and illustrated by Geoff Stevenson
Keywords: Love across distance
Purchase: Canada and U.S.A.
The Invisible String tells us the story of two kids who miss their mom at bedtime. She teaches them about the invisible string – something that connects us to all of our loved ones, no matter how far away we are, even to the people we love in heaven.
What we love: This isn't specifically about loss and can be applied to any situation where someone is feeling sadness over not being able to see someone they love, or who might be having some anxiety over starting a new big chapter. It's a reminder that our loved ones are always with us because we're connected by our love for each other, even when we can't be together.
Who it's for: Anyone who's missing someone, for whatever reason, no matter how far away.