We lost Jude four years ago and yesterday. This year is different, as we're all living through these very strange days of COVID-19. In our home this sometimes feels familiar. In some ways it's not so different from what we've been through before. But today is hard. Normally we'd take today and get out together. We'd go do something Jude loved to do, and be out of our space. This year that isn't possible. We're home because that's where we all need to be unless going out is essential, and Craig still needs to spend the day working, and it isn't so easy to take a day off under these circumstances.
I don't know what it is about today, but it feels more like May 7th, 2016 than May 6th, 2020. 'Four years ago and yesterday' has never felt more on point.
This was an awful flu season, but our attentions were focused elsewhere while we were still in the height of it. COVID-19 was taking hold in other regions, and trickling in here. In mid-March North America began to shut down, and with physical distancing our flu season came to an abrupt end. Through these last months we've been home unless essential, and doing our best to protect ourselves and each other. We've certainly saved many lives and prevented countless illnesses and hospitalizations, but there's a long way to go while we figure this out. I don't know what this coming fall and winter will look like for flu. I know we'll be here helping to share the best available information.
What we're going through now is hard, but while we're all in the same storm, we aren't all in the same boat. Some are struggling more than others. As we do each year at this time, we're sharing organizations that help make life easier for other families. If you're in a financial position to help right now, these are some of our favourite options, but there's nowhere that doesn't need support right now. Thank you for doing what you can.
We miss you, Jude, and we carry you with us wherever we go. We love you, tiny lion.
#forjudeforeveryone #grabyourcape
1. Grab Your Cape – Food Banks Canada
2. Conquer COVID-19
3. Ronald McDonald House
4. SickKids Get Better Gifts – Mother's Day
5. UNICEF Life-Saving Vaccines
6. Canadian Blood Services
7. Green Shirt Day – Organ Donation
---
1. Grab Your Cape – Food Banks Canada
In December while we were talking about what we'd buy for the food drives we were supporting, Isla had a lot of questions.
'Wait, but if no one should ever go hungry because there's not enough food in the house, then why do we only do this once a year? Isn't this a problem all year?'
She asked how we could help, wanting to organize a food drive through her school in the spring. COVID-19 changed everything, including increasing the need for support to all our food banks. A food drive was no longer possible, but an online fundraiser is. She set a goal of raising $2000 for Food Banks Canada and has surpassed it with your support. Thank you. The fundraiser runs until Mother's Day and she'd love any further help to this organization that's keeping people fed.
2. Conquer COVID-19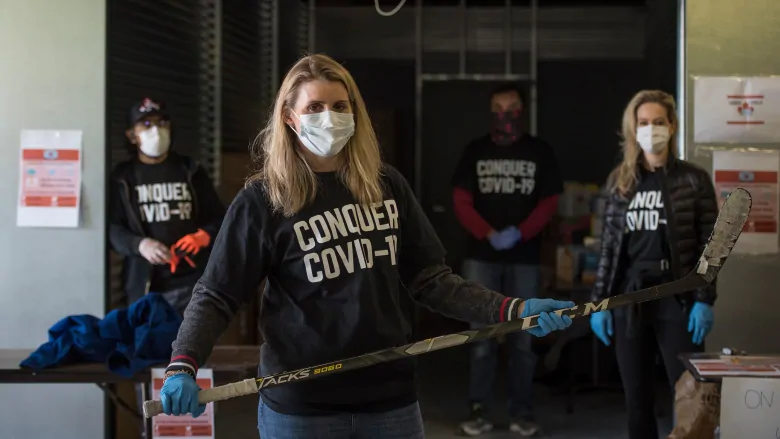 This is hard, and it's going to be hard for awhile. Our frontline workers are putting themselves at risk every time they go out to keep everyone safe and cared for, and they need our help. Conquer COVID-19 is collecting monetary donations and supplies to distribute to those who need them. It's driven by volunteers and supported by Hayley Wickenheiser and Ryan Reynolds. You can even buy a t-shirt! Let's take care of the people who are taking care of us.
3. Ronald McDonald House
When you're sick you want someone who loves you with you. This is true for adults, but it's especially true for young ones who need to go to a hospital that's far away from their home. Ronald McDonald House provides a place to stay for families while their children are receiving care.
COVID-19 has cut back on the annual McHappy Day festivities (normally Wednesday of this week), but you can donate any time to RMHC with this link. Help keep families together while they're facing medical challenges. We still opted for Happy Meals today because they made Jude laugh.
Americans! Apparently McHappy Day is uniquely Canadian. While I hope that your stores will pick this up in the future, in the meantime you can support Ronald McDonald House in store or with this link.
4. SickKids Get Better Gifts – Mother's Day
I love this one and I return to it over and over. It feels especially appropriate at this time of year, with Mother's Day just around the corner. I can't tell you how badly I wish I could have just one more new memory with Jude. It would never be enough, but it would be everything. I love the SickKids Get Better Gifts. Throughout the year they'll recommend different gifts for different occasions, but they also have a full list for you to go through, for anything that might make your heart happy. There's something for any budget, whether you want to give a kid a break from the hospital with their mom, craft supplies and games, or give to medical supplies or research. It's all there. Your $20 gift can bring a big smile to someone who's having a hard time, and when we're talking about kids in the hospital, that's pretty amazing.
Four years ago I spent Mother's Day weekend planning my son's funeral, and it's still tough to get through. I'm so glad to have this beautiful way to make it special for other moms and kids who are having a tricky time.
5. UNICEF Life-Saving Vaccines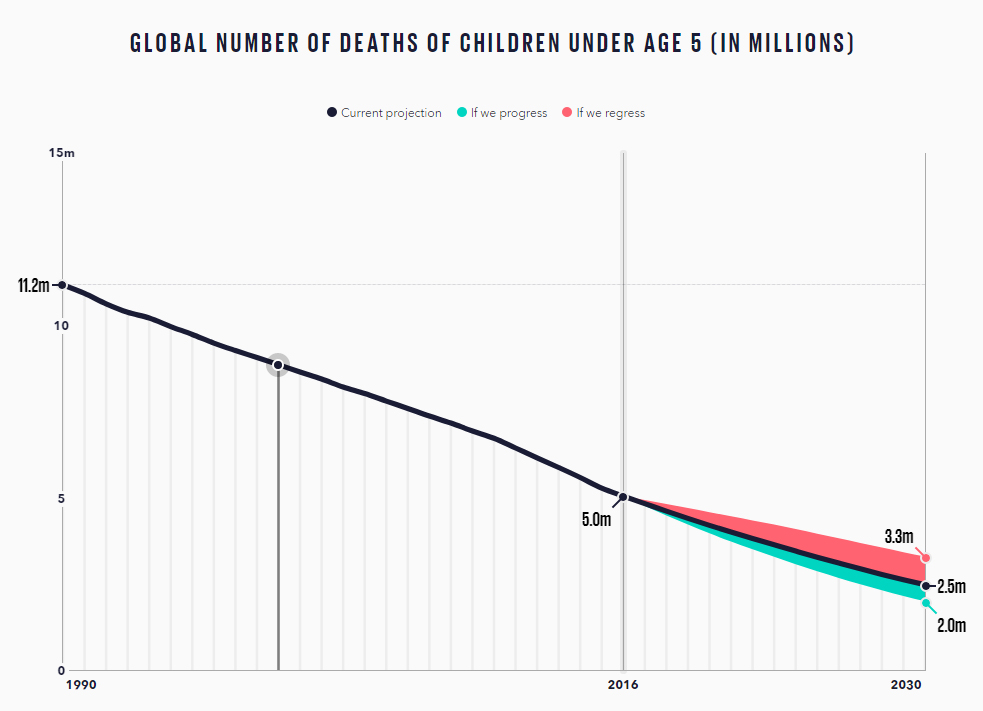 'About 1.5 million of the children who will die next year will die from diseases that we can prevent with vaccines. ' – Melinda Gates
In 2017 we saw The Gates Foundation come together with world leaders and innovators to give us a report card on health. They touched on a wide range of topics and I wrote about their observations and work on child mortality. If you have a few minutes I encourage you to take a look at the post, and if you have a little more time check out the Goalkeepers data report.
Our old favourite 'Super Hero Pack' isn't available anymore, but we love the available options to provide life-saving vaccines to children. You could protect 50 children from the measles, 100 from polio, or 500 from tetanus. You could provide treatment for children with malaria, or a vaccine carrier to keep the vaccines effective until they're delivered to their destination. All of these options are surprisingly affordable and a reminder that no one is getting rich off vaccines.
In 2016 Jude was one of five million. There are five million stories just from that year that are just as sad and awful as ours, and approximately 1.5 million of them from vaccine preventable diseases. Let's do better. Let's contribute to public health and prevent children from contracting these illnesses in the first place.
People often wonder how they'd act if they were in a position to save someone's life. I have great news – it's easier than you think. All you have to do is roll up your sleeve and give blood. It won't cost you a dime and they'll give you juice and cookies when you're done. Not enough of us are currently giving and we've been running at a critical low in Canada. you're never too late to start giving. Wondering if you're eligible? Check here, then book an appointment. Please note that if you were ineligible at some point in the past you may now be able to give as some rules have changed. Take a look!
American? This is your link!
Please go if you're medically able.
7. Green Shirt Day – Organ Donation
Two years ago Logan Boulet helped us have a conversation that we've been long overdue to have. At 21 he registered to become an organ donor. After the Humboldt Broncos bus crash they were able to donate his organs to six other patients. Lives were saved because of his selfless choice. To honour his decision and help continue his good work, his parents have created Green Shirt Day to encourage others to register.
We can't take them with us. We have no use for them after we've died, but someone who's still here might live because we've taken action to register to donate. We don't have a national registry, but this link will connect you to your province or territory's registry. I have friends who are alive today because they received organs. Leave the world better than you found it. On your way out, give someone else a second chance at life. After you've done that, have a conversation with your loved ones to make sure they know your intentions. Registering is quick. If you aren't sure of your status as a donor, check online and make sure you've done what you need to.
---
Jude. My beautiful boy. I wish I could pick you up and hear your voice. I wish I could see what you'd look like now, and what kind of ridiculous trouble you'd be causing. I wish I knew what would make you laugh, what would make you excited. We all miss you desperately and will miss you every moment for the rest of our lives. I hope your story is helping other people. I wish you could be here to make your own impact. We love you. You are here with us in everything, always.

(2017 ^)